Lesezeit:
5
Minuten
The planning and furnishing of your commercial business or private workshop should aim to foster the greatest possible productivity, simplifying the handling of materials and machines. In the modern working environment where speed is key, you and your employees are constantly on the move and need to produce high-quality work quickly.
Well-structured furnishings in your workshop enable smooth operations. With suitable lighting, robust flooring and solid work surfaces, including optimal tool sorting, a variety of projects can be completed easily. In our workshop planning guide, we give you practical tips on a sensible organisational system and show you what to consider when setting up your workshop.
Plan your new workshop in 5 steps
To find workshop equipment that is right for you, you should first draw up a plan about the scope of your future work. As a first step, it is advisable to draw up a checklist that will give you important clues for setting up the workshop:
What kind of work will be done, e.g. woodworking, casting, machining or soldering?
How many machines and tools are needed, and for how many employees?
Is there a need for storage space for materials or manufacturing products?
Is the workshop access adequately sized?
Are there special safety requirements for which additional fixtures are necessary?
Once you have answered these five questions, you can start planning the details. A very important aspect to consider before you set up your workshop is the arrangement of workbenches and machines. This is essential to ensure that materials or finished products can be manoeuvred easily.
After this overview of your workshop, you can now choose the appropriate equipment. You may need special solutions such as heavy-duty shelving or fixtures for storing hazardous materials in addition to standard items such as cabinets and workshop benches. In order to set these up in the workshop, additional space may be needed. There may also be certain conditions attached to the subfloor or ventilation systems.
Furnishing a workshop – high demands on the workshop floor
Before you start creating your workshop, you should check whether the existing workshop floor meets the planned work requirements. Possible materials for workshop floors can be linoleum, PVC, hard rubber or liquid sealants.
Keep in mind that the flooring may have to meet specific safety requirements, such as slip resistance or being impervious to hazardous substances. In addition, your workshop floor may be exposed to strong mechanical stresses and should be able to withstand these.
Planning the requirements for the workshop space
Now that you know in which areas of the workshop tools, machines, storage facilities and work surfaces will be located, it is advisable to consider what type of power connection you will need. Think about what type of lighting, as well as heating, is suitable and whether you need to provide a ventilation system.
1. What connections are needed to set up the workshop?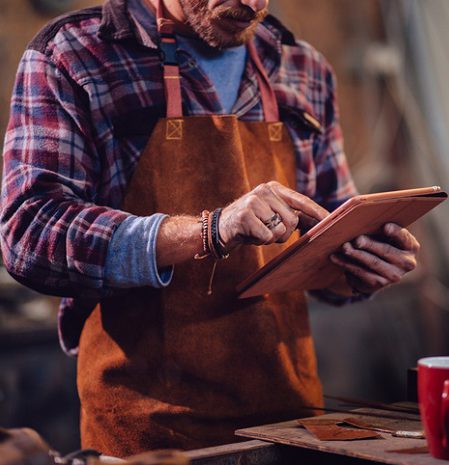 From previous planning, it should become clear what work is to be carried out in your workshop and what tools or machines you will need to do it. From this, you can deduce which connections are required.
A water connection may also be useful in your workshop as it may be necessary to clean hands or materials. A sink made of resistant stainless steel will also be required.
Think about the type of power connection you need. Are average 230V sockets sufficient for operating machines and power tools, or do you also need a high-voltage connection? You should also check whether there are enough sockets and whether they are distributed sensibly throughout the space. Additional extension cords can be a nuisance and pose a risk of accidents. In addition, the fuses and cables in the workshop should also be dimensioned for machinery.
2. Is sufficient lighting provided?
Check exactly what kind of workshop lighting you need for your work processes. Are bright ceiling spotlights sufficient or would swivelling or mobile lamps be more suitable for your workshop?
Workshop lighting should be flicker-free and non-glare. In addition, it is recommended that workshop rooms be uniformly illuminated with 200-500 lux. A colour temperature of 5700 K or more is ideal as this prevents the release of the sleep hormone melatonin and increases the concentration and performance of your employees.
3. Are ventilation systems necessary for an optimal set-up of the workshop?
If there are high levels of dust formation or the emission of pollutants and gases during work, the installation of a suitable ventilation or exhaust air system is required. Sometimes this is even mandatory for occupational health and safety reasons. Using a suitable system, polluted air can be extracted and transported outdoors. Coarser particles such as wood chips or dust, for example after sawing and grinding work, are also filtered out of the air.
4. Which workshop heating system is suitable?
In most cases, a workshop heating system is necessary, especially for open-plan workshops. It is necessary to consider which type of heating is appropriate for the space. The aim is to achieve the lowest possible consumption, flexible use and high performance. Common types of heating in workshops are diesel or oil heaters, electric fan heaters, infrared heaters as well as gas heaters.
Equipping your workshop – making efficient use of the space
By furnishing your workshop, you can create different work and storage areas. Try and use the available space efficiently without losing freedom of movement and flexibility, while always keeping your tools and machines within reach.
Work surfaces – using versatile workbenches
Workbenches are a particularly effective and space-saving way to work. In addition to fixed workbenches, there are also mobile workshop trolleys that can be used as needed. Alternatively, compact workbenches on castors are an option for moving your work spaces and tools within the premises.
Workbenches offer extensive working solutions. When you set up your workshop, you can either rely on simple workbench variants consisting of a worktop and frame or choose compact models with customisable substructures. In addition, there are complete modular sets that can be flexibly designed and integrated. Remember, it is very important to choose robust and high-quality worktops.
When choosing the right work surfaces, ergonomics in the workplace should not be ignored. The right height dimensions and height adjustability lead to a healthy, upright posture and relieve strain during all activities.
Storage – order and organisation for tools and materials
There are no limits to the possibilities for storing tools and materials, because cupboards and shelves are available in different sizes, models and types. You can make particularly efficient use of the space in your workshop if you also store work equipment on the walls. Taller cabinets or wall cupboards, as well as perforated walls, also allow you to use the workshop space vertically.
Alternatively, you can creatively expand the range of work surfaces and storage options by designing and building workbenches and storage furniture yourself. Think about maximising the use of all available space before creating your storage options.
Image source:
© gettyimages.de – wundervisuals prior