Lesezeit:
3
Minuten
Hammer, cordless screwdriver, spirit level— everybody needs at least a basic set of tools for small repairs and assembly work at home. Even if it is just for hanging a picture on the wall or assembling a piece of furniture, tools come in handy.
For ambitious crafts people or enthusiastic DIY hobbyists, however, this basic tool kit is usually not enough. In addition to screwdrivers, pliers or drills, a high-quality assortment of DIY tools is also required. Professionals, on the other hand, need both the basic equipment for their respective trades but also special tools for specific areas of their work.
With the tool guides from Jungheinrich PROFISHOP, you can put together a basic tool kit for every need. In these respective guides, you will find clear lists of basic tools and equipment for hobby-level crafts people right up to professionals, as well as tips on useful tool additions and aids for various areas of application.
Basic tool kit for jobs around the home
In addition to standard repairs and decorating work, many homeowners also carry out a range of other jobs. Classic examples of this are renovations such as wallpapering or painting. Ambitious DIYers, however, also lay tiles in the bathroom and fit kitchens themselves, which require suitable tiling tools.
While it is better to hire professionals to lay parquet flooring, carpets or laminate flooring is more straightforward and can be laid without too much specialist knowledge and with only basic tools. In our guide, you will find a list of the basic equipment needed to lay laminate.
The right tools for professional craftsmen
While a list of basic tools is sufficient for most work in the home and garden, craftsmen or self-employed professional tradesmen naturally need more extensive equipment. This varies from trade to trade.
In carpentry or joinery businesses, for example, special woodworking tools are part of the basic workshop equipment. Hand and power tools can also be supplemented with sturdy workbenches or tool trolleys. Woodworking businesses also need classic woodworking tools in addition to the basic equipment, although not every common tool is necessarily needed for every field of work. The same applies to tools for roofers.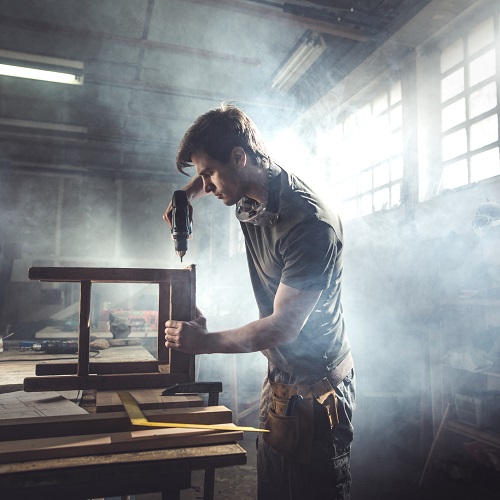 The basic tool kit for installation companies can be very wide-ranging. Many electrical jobs can be carried out easily with basics such as Stanley knives or screwdrivers. For professionals, however, testing devices and VDE-insulated pliers or cable cutters are also part of the essential tool kit.
For plumbers, heating engineers or gas installers, the basic equipment is similarly specific. In addition to basic equipment, plumbing tools such as water pump pliers or pipe cutters offer tradespeople a competitive advantage. Depending on the situation and specialisation, appropriate tools should be added to the tool bag when needed.
Basic tool kit for vehicles
If you are on the road regularly, either on two or four wheels, you generally need tools for small repairs and assembly work on your vehicle. While the tools for bicycles are usually manageable, the basic equipment for cars can be more extensive. For complex repair tasks, such as electronics or brakes, specialist tools are required that usually exceed the standard equipment of the garage at home. However, these are an essential part of the basic tool kit of a car workshop or garage.
The tool requirements for motorbikes are similar. The tool experts at Jungheinrich PROFISHOP can not only provide you with a list of the tools everyone needs for repairs at home, but also suggest suitable motorbike tools for breakdowns on the road.
Cleaning and care of tools
Whether in carpentry, automotive or hobby workshops, tool maintenance is important to ensure your toolkit has a long service life and remains fully functional and safe. This includes regular cleaning to remove oil, grease, dirt and rust. In the process, defective tools can be identified and repaired or replaced. Here at Jungheinrich PROFISHOP, we can provide you with tips on correct and effective tool maintenance and care.
Image source:
© gettyimages.de – miodrag ignjatovic
© gettyimages.de – skynesher