Lesezeit:
3
Minuten
Anyone who enjoys riding a motorbike knows that small repairs and maintenance work can be carried out conveniently and easily by yourself – as long as you have the right motorcycle tools. Below, we have compiled practical checklists which you can use both to put together the basic tools for motorcycle repair and to supplement useful motorbike tools when on the road.
Motorbike tools – basic equipment
Many care and maintenance tasks on your motorbike can often be done yourself with the right tools. As a rule, using diy tools in the usual standard sizes are sufficient. If you find that you are missing a certain tool size during the repair, it can always be retrofitted. You can often find information in the motorbike manual regarding which tool sizes are needed for your specific bike model. With the following motorcycle tool kit, you will be well equipped for most repair and maintenance work:
Combination spanner: A combination ring spanner in different sizes loosens or tightens bolts and nuts on the motorbike
Slotted and Phillips screwdrivers: Screwdrivers of both types are essential for assembly work around the engine and the bodywork of the bike
Socket spanners: A socket spanner set consisting of a hand tool or a reversible ratchet with exchangeable sockets can also be useful for various assembly or repair jobs
Pipe wrench: Adjustable pipe wrenches help loosen tightly screwed components on the motorbike and also assist when working on the brakes
Electronics pliers: With fine electronics pliers, wires or small parts can be gripped and separated if necessary. The pliers are also available with VDE insulation for working on live wires.
Plastic hammer: The hammer assists in loosening stiff screws or other parts that are difficult to move. Thanks to the plastic coating, damage to the bodywork or paintwork of the motorbike is avoided.
Lubricating oil: To thoroughly lubricate the parts replaced during a repair, the appropriate lubricating oil for the motorbike model should be kept in stock
Motorbike tools for more demanding repair and maintenance work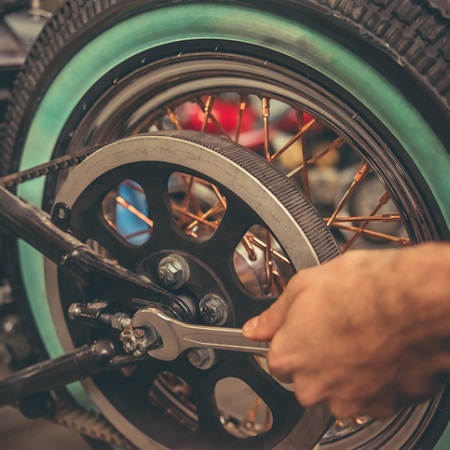 If you are willing and able to carry out more complex work on your motorbike yourself, you may need to supplement the basic tools with additional equipment, as follows:
Torque spanner: If bolts must be mounted with a defined torque, a torque spanner is indispensable. The respective torque values can be found in the vehicle manual. Compliance with these specifications is particularly important on chassis parts, the engine housing, or the cylinder head
Soldering iron and solder: This motorbike tool (re)establishes a firm connection between cables. A welding tool, on the other hand, is needed to repair a rusted-through tank or other sheet metal work
Feeler blade gauge: The gauge is necessary for measuring small distances, for example, the electrical distance between spark plugs or measuring valve clearance. The different blades made of sheet metal are divided into 0.05-millimetre intervals
Motorbike tool set for longer tours
To be well equipped for excursions and longer motorbike tours, it is also advisable to purchase suitable motorbike tools for the road. Depending on how long the planned route is and what kind of terrain it takes you through, you should take the following tools with you:
Air pump and air pressure gauge: With these you can check the air pressure of the tyres and correct it if necessary
Tyre changer: If you need to replace a tyre on the road, this tool will help you to remove the tyres from the rims
Tyre repair kit: Depending on the scope of equipment, this includes a CO2 cartridge and suitable mounting tools as well as all the necessary materials for a quick tyre repair on the road
Fitting tools for on the road: Many tools are often also available as travel sets or in a motorcycle tool roll for on the road. As a rule, it is advisable to pack combination tools to save space and still be prepared for as many puncture scenarios as possible
In addition, you should have some important spare parts and resources with you. This is especially true if you are planning tours through remote areas. These include:
Spark plugs: Worn plugs can thus be replaced without a visit to the workshop
Battery charger or starter cable: This will keep you going even if your motorbike's engine does not start by itself
Engine oil, chain spray and small items: Screws, wire, cable ties and nuts as well as adhesive tape will help you repair minor defects on your bike when you are on the road
Repairs that need to be made on the road are usually only sufficient insofar as they allow you to get your motorbike home or to the nearest specialist workshop. In the event of extensive damage, such as to the electronics, brakes or oil filter system, a professional breakdown service should always be called.
Image source:
© gettyimages.de – GeorgeRudy