Lesezeit:
5
Minuten
Slip resistance is a prerequisite for ensuring that not only can public areas be safely accessed, but that all surfaces within a company can be walked on safely. Slip resistance is compromised when there is a slip-promoting substance, such as water, on the floor. This is often the case in certain workrooms and work areas where water, oil or grease are used. Food, food waste, dust, grain, or plant waste that ends up on the work floor may also be considered slip-promoting substances that can impair slip resistance.
Various measures can be taken to achieve and increase slip resistance for different work areas. For example, when planning a new building, a specific class of tile can be selected according to the intended use. Slip resistance can also be improved retrospectively with various fittings such as anti-slip mats. Read our guide to learn about slip resistance classes and which measures you can take to optimise slip resistance for your business.
Anti-slip flooring– What are the slip resistance classes?
The various slip resistance ratings evaluate the risk of slipping on different surfaces and floor types. These categories follow UK HSE guidelines and are regulated in DIN 51130. In order to determine the individual slip resistance classes, certain slope angles were tested at which the respective substrate must be slip-resistant. Several criteria that can affect the slip resistance of substrates were used to determine the slope angles:
The frequency with which a slip-promoting substance occurs and is distributed on the floor.
Type and characteristics of the slippery substance (water, oil, grease, dust, etc.)
Average degree of soil contamination by this substance
Other structural, organisational and procedural conditions
Based on the assumed angle of inclination, a classification is then made in the corresponding slip resistance class. As the number of classes increases, so does the assumed angle of inclination, and subsequently, the required coefficient of static friction. The higher the slip resistance class, the more prudent the measures must be to provide a safe working environment.
| Slip Resistance Class | Inclination Angle | Coefficient of Friction | Range of Application |
| --- | --- | --- | --- |
| R9 | 6°-10° | Lowest Coefficient of Friction | This slip resistance class offers only low slip resistance and is therefore suitable for smooth indoor floors without liquid accumulation, such as offices. |
| R10 | > 10°-19 | Normal Coefficient of Friction | With a medium coefficient of friction, this slip resistance class is used in private bathrooms and on terraces, in public toilets and washrooms, for barrier-free designed entrances indoors and outdoors, in communal showers, in machine rooms for woodworking, and vehicle parking areas. |
| R11 | > 19°-27° | Increased Coefficient of Friction | The increased coefficient of friction applies to floors in food production, catering areas, laboratories and public swimming pools, as well as all working environments with water and mud. |
| R12 | > 27°-35° | High Coefficient of Friction | The slip resistance of this class is suitable for rooms where fatty foodstuffs such as dairy products, sausages, meat products and oils are produced. Floor coverings in kitchens where more than 100 place settings are produced daily are also rated with this slip resistance class. |
| R13 | > 35 | Very High Coefficient of Friction | The slip resistance class with the highest static friction value offers great slip resistance – even under demanding conditions such as in slaughterhouses and production rooms where large quantities of fats and oils are produced. |
The slip resistance ratings indicate the minimum requirements in each case. When using the prescribed floor coverings, a residual slip hazard risk can therefore never be completely ruled out.
Additional designations in slip resistance classes
The respective slip resistance classes can be supplemented with additional designations, which define the slip resistance even more concretely in each case. For example, the letters A, B and C refer to evaluation categories that apply to floors in barefoot areas:
A – low slip resistance requirements – for dry floors.
B – medium slip resistance requirements – for wet floors
C – high requirements for slip resistance – walk-through pools or stairs leading into the water in swimming pools.
For example, the designation "R10 B" would evaluate the slip rating for tiles in showers or near the pool of a swimming pool or sauna.
In working environments where heavy soiling with slippery substances (especially oils and animal fats) is to be expected, the displacement volume of relief surfaces must be specified in addition to the slip resistance class. Substrates that provide the necessary slip resistance for such work areas are therefore designated V4, V6, V8 or V10. The number here stands in each case for the displacement volume in cm3/dm2.
How to achieve the necessary slip resistance for your company
The right floor coverings are essential for good slip resistance that not only corresponds to the assigned slip resistance class but are also adapted to the other requirements in your workrooms. For example, when choosing anti-slip flooring, the substrates mechanical resistance to heavy loads, such as being driven on by forklifts or pallet trucks, must also be taken into account. In some work areas, the subfloors must also be weather-resistant or resistant to acids and alkalis.
Depending on the requirements, a variety of anti-slip floor coverings can be used. These can be fine-rough, rough, or profiled floor coverings. The higher the slip resistance class, the rougher the surface must be. Examples of suitable surfaces include:
Ceramic slip resistant tiles
Natural and concrete stone slabs
Wooden floorboards or parquet
Screeds with mineral components
Synthetic resin coatings and synthetic resin paints
Plastic or metal gratings
Glass plates
Elastic floor coverings (anti-fatigue mats)
Anti-slip floor mats
Further standards for floor coverings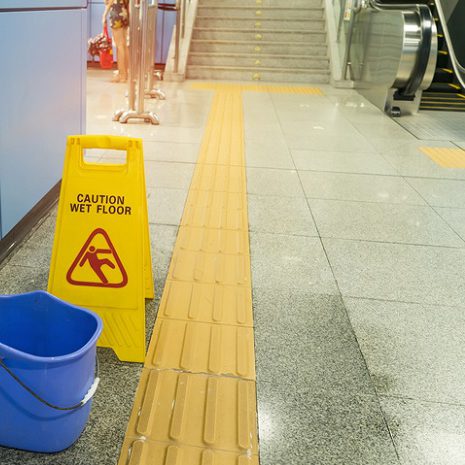 In addition to the specific slip resistance classes for floor coverings, other standards for floor safety may also have to be taken into account, depending on the place of use, such as DIN EN 13845, which regulates flexible floor coverings. Additionally, DIN EN 13501-1 regulates the fire behaviour of building materials and components, and subsequently, floor coverings.
When floor coverings are selected for installation in work areas and workrooms, they should also be tested for other specific requirements. Depending on the place of use, these factors can include:
Trafficability of the floor covering
Chemical resistance
ESD protection or antistatic properties
Suitability for indoor or outdoor use
Anti-fatigue or ergonomic properties
Drainage and ventilation
Cold resistance and other insulating functions
DEHP-free (plasticizer)
Oil resistance
Additionally, the washability of the flooring, the ability to cut it to size, and the option to purchase the flooring by the meter can also influence the purchase decision.
Improve slip resistance retroactively
In principle, it is always possible to improve the slip resistance of surfaces retroactively with professional treatment. Various options are available for this purpose, but they can only achieve a maximum improvement of one slip resistance class. If this is not sufficient to meet the mandatory safety requirements, it may be necessary to completely replace the flooring.
Anti-slip floors can be improved with a subsequent coat of floor marking paint: Not only does the paint marking provide better slip resistance on large floor areas, but the colour also clearly indicates work areas where there is an increased risk of slipping. Anti-fatigue mats usually also have slip resistance so that certain work areas can be equipped to be gentle on the joints and slip-resistant at the same time.
Anti-slip flooring and mats are also suitable for pathways or stairs. They can be firmly connected to the floor using screw or adhesive connections. Additionally, rubber mats at entrance areas or slopes can also increase safety in your company.
Please note: The regulations mentioned above represent only a selection of the most important legal requirements. Please refer to the listed organisations and directives for more detailed information. If in any doubt, consult experts or contact the relevant regulatory authorities
Image source:
© gettyimages.de – kynny