Lesezeit:
5
Minuten
Company hygiene regulations are of great importance for several reasons. Mainly, so that the multiplication and spread of dangerous germs and pathogens can be prevented. This is particularly relevant for aseptic establishments such as hospitals or doctors' surgeries. Additionally, the requirements for industrial hygiene are intended to ensure that in sensitive areas such as the food or pharmacological industries, products can be processed and manufactured to meet the respective quality and hygiene standards. Ultimately, this benefits not only end consumers and customers but also your employees.
The regulations on hygiene in the workplace differ depending on the sector. In the following guide, you will find the most important information on hygiene regulations across various industries.
Benefits of hygiene regulations in the workplace
Industrial hygiene plays an important role in business, not only in sensitive areas such as the food industry or the medical sector but in every organisation. The current hygiene regulations should be observed so that the risk of germ transmission is kept to a minimum. Various official regulations make it easier for company owners and employers to find the right information for establishing and permanently maintaining an adequate standard of hygiene.
The hygiene regulations that apply depend on the type of business in operation. Stricter regulations apply, for example, in the food industry, in aseptic operations, and in the catering and hotel industry. But industrial hygiene should also play an important role in offices and workshop facilities. This is because it offers other advantages in addition to protecting the health of your employees:
The requirements of industrial hygiene create reliable guidelines that support the establishment of an operational control system. Based on the legal requirements, businesses can define and implement their own internal hygiene rules and measures.
In the event of cases of illness, e.g. after a visit to a restaurant, the business is usually inspected for compliance with hygiene regulations. Compliance with legal hygiene regulations therefore also serves as a legal safeguard.
Regulations on hygiene in the workplace contribute to product safety for the consumer. Hygiene traffic lights or certifications create confidence among customers and end consumers.
Good industrial hygiene serves to effectively protect the health of employees by preventing the transmission of germs and pathogens. This also reduces sick leave in companies, which saves costs and increases productivity in the long term.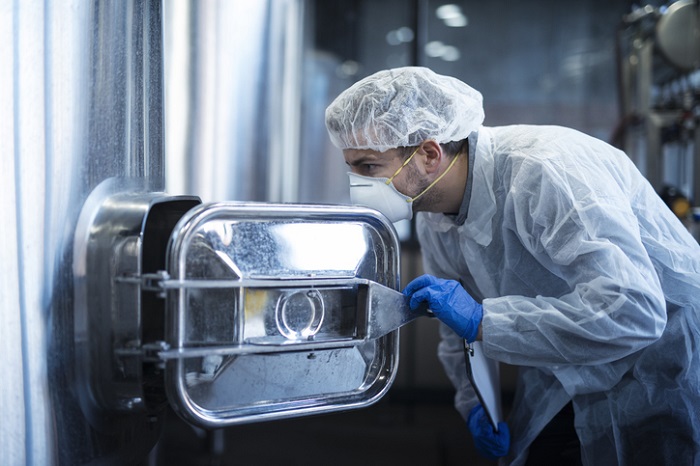 General industrial workplace hygiene regulations for all industries
The regulations on general industrial hygiene are overseen by the Health and Safety Executive (HSE) under the laws laid out in Workplace (Health, Safety and Welfare) Regulations 1992, and theManagement of Health and Safety at Work Regulations 1999. In addition to specific measures, the employer's duty of care can also be found there. The requirements for general hygiene regulations at the workplace apply to all business premises and also include outdoor facilities, machines and equipment.
Particular importance is attached to those areas that have a high frequency of visitors. These are mostly bathrooms and toilets, but also offices. Separate hygiene requirements also apply to work areas, refrigerators and other facilities for food storage.
Generally applicable industrial hygiene rules for all businesses:
Depending on the company, buildings and operating rooms should be cleaned thoroughly on a daily basis or in a fixed, close-meshed cycle. Cleaning protocols have proven effective in practice for monitoring purposes.
Cleaning frequency should be increased in areas with high visitor frequency.
Frequently touched surfaces should be thoroughly cleaned and disinfected (door handles, tables, light switches, telephones, etc.).
Sanitary rooms should be cleaned and disinfected daily or at least regularly, depending on the sector.
Protective gloves should be worn during cleaning and disinfection. Hands should be washed before and after cleaning work. Gloves should also be changed when changing work areas.
Textiles used at work that have come into contact with food, excreta or other germ carriers should be washed daily – clothing as well as cloths or rags. Laundry lockers can be used to collect textiles hygienically.
When cleaning, water should be changed more frequently to prevent contamination.
Rubbish bins and waste containers should be emptied daily or at least regularly, depending on the operation.
Industrial hygiene in food processing companies
Particularly in food processing companies, the strictest workplace hygiene regulations must be followed and compliance with them must be closely monitored according to standardised procedures. These are laid out by both the HSE and the Food Standards Agency (FSA). Established in 2000 the FSA is the independent government department working to protect public health and consumers' wider interests in relation to food in England, Wales and Northern Ireland.
They create and regulate food safety standards for all producers based in the UK. This includes food producers, food processors, catering establishments, takeaway and food delivery, retailers and approved dairy, meat and fish establishments. In companies and service providers such as hospitals, medical practices or pharmacological and chemical companies, where an aseptic environment is absolutely necessary for work, the regulations for hygiene in the workplace must be structured, controlled and documented by a disinfection plan.
Personal hygiene in the workplace
There are also staff hygiene requirements for businesses in every industry. These vary depending on the type of company and are more extensive in medical, food processing and aseptic companies.
The area of personnel hygiene includes all measures that serve to keep staff and employees clean, including their work clothes. The top priority here is regular hand washing and disinfection after each visit to the toilet. Wearing clean work clothes is also important to ensure adequate personal hygiene. Companies should also take necessary measures to make it as easy as possible for their employees to comply with hygiene regulations. This can be done, for example, by installing soap dispensers or providing disinfectants in the toilets.
If employees come into contact with toxic substances in their daily work or if there is a risk of infection through patients, regular examinations by the company doctor also fall under personnel hygiene.
FAQ for industrial hygiene
What is industrial hygiene?
Industrial hygiene includes all measures for general cleaning, tidiness and maintenance of operational rooms and equipment, as well as measures for personal hygiene to prevent the transmission of germs. The exact regulations on hygiene differ greatly depending on the area of operation.
What are the hygiene areas?
Hygiene areas are those where specific hygiene regulations apply. These vary greatly depending on the sector and company. Hygiene areas include, among others, business premises, operational rooms and workplaces, food and personal hygiene at the workplace. In cleanrooms, laboratories and hospitals or other medical facilities, hygiene areas are subject to even stricter regulations.
Why is hygiene in the workplace important?
Hygiene in the workplace serves to effectively protect the health of employees by preventing the transmission of germs and pathogens. This also reduces sick leave in companies, which saves costs and increases productivity in the long run. There are also other advantages.
Please note: The regulations mentioned above represent only a selection of the most important legal requirements. Please refer to the listed organisations and directives for more detailed information. If in any doubt, consult experts or contact the relevant regulatory authorities.
Image source:
© gettyimages.de – Smederevac