Lesezeit:
4
Minuten
Safety signs are pictograms that convey safety-relevant information for employees and visitors in private and public buildings. The idea behind safety signage is to use symbols that are as comprehensible and self-explanatory as possible for maximum efficacy. Especially in the field of occupational safety and accident prevention, safety markings and signs are of great importance as they help to prevent serious accidents and damage to health.
Areas of application for safety signs
Safety signs are divided into the following categories:
Prohibition signs
Mandatory signs
Warning signs
Rescue sign
Fire protection signs
Binding standards for design and affixing ensure that safety signs can be used uniformly and in accordance with regulations in private and public buildings – and that occupational safety and accident prevention are always reliably provided.
Standards for safety signs
There are binding standards for safety signs meaning that mean a uniform appearance is ensured.
The regulations in UK law, under The Health and Safety (Safety Signs and Signals) Regulations 1996, follow those of an EU Directive designed to standardise signs across the continent. This is to ensure that safety signage has the same meaning – whichever country they are used in. This European-wide programme for safety signs includes the specifications from the standard BS EN ISO 7010 as well as regulations for the marking of escape routes and first aid supplies.
The safety signs regulated by BS EN ISO 7010 are distinguished by letters and are supplemented by a three-digit number, which means each safety sign can be identified in following way:
P = Prohibition sign
W = Warning sign
M = Mandatory sign
E = Rescue sign
F = Fire protection sign
S = Additional sign
H = Instruction sign
C = Combination sign
The different colours and shapes of safety signs
The Health and Safety (Safety Signs and Signals) Regulations 1996 specify which shapes and colours are prescribed for the respective signs. In this way, the respective significance of the safety sign is immediately recognisable:
Safety signs
Shape and colour
Examples
Prohibition sign
• Indicates behaviour that is prohibited
• Circular
• With red border
• With a red crossbar
Mandatory signs
• Contains indications of the required behaviour
• Circular
• Blue
Warning signs
• Indicates dangers
• Equilateral triangle
• Yellow with black border
Rescue signs
• Indicates help in case of emergency and also mark escape routes and emergency exits
• Square
• Green
Fire protection signs
• Gives information on aids and behaviour in case of fire
• Square
• Red with white border
The recognition range of safety signs
In addition to the geometric shape and colour, the recognition range of safety signs is also regulated. This indicates how large the corresponding safety signs must be, so that they can be easily recognised at a certain prescribed distance. Lighting conditions also play an important role here. According to BS EN ISO 7010, the standards for safety markings of certain sizes with regard to recognition distances are as follows: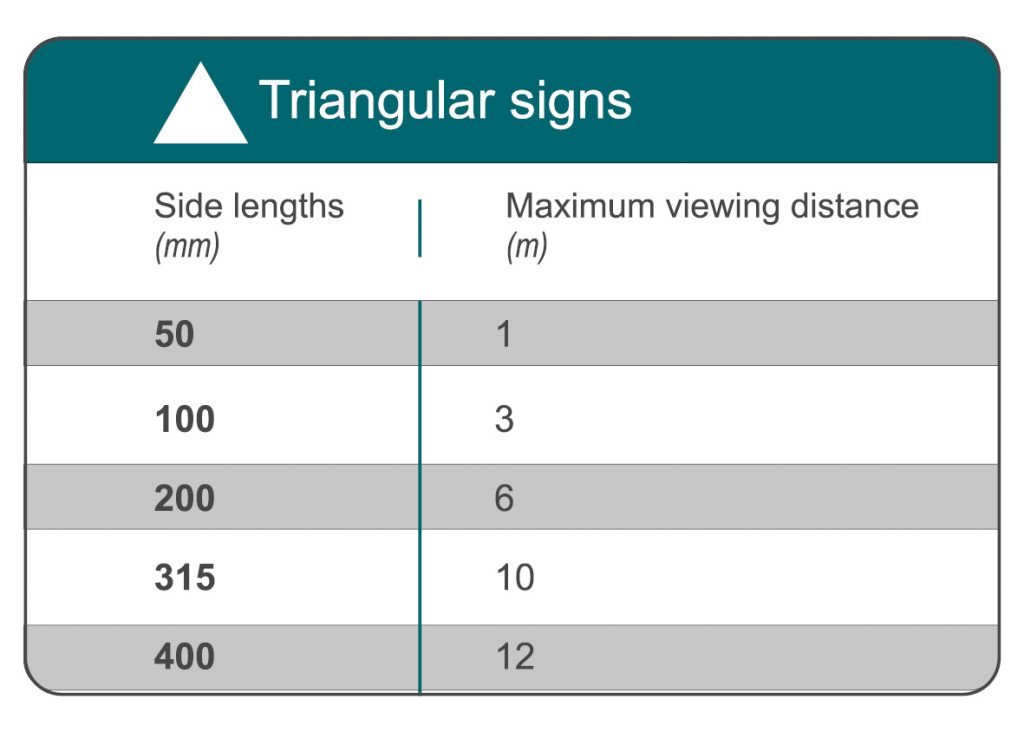 Optimum recognition distance is always achieved when the shape, colour and symbol of the sign are clearly visible. For environments with changing light conditions, such as roads or paths on company premises, permanently illuminated or reflective safety signs are sometimes necessary as is larger dimension signage.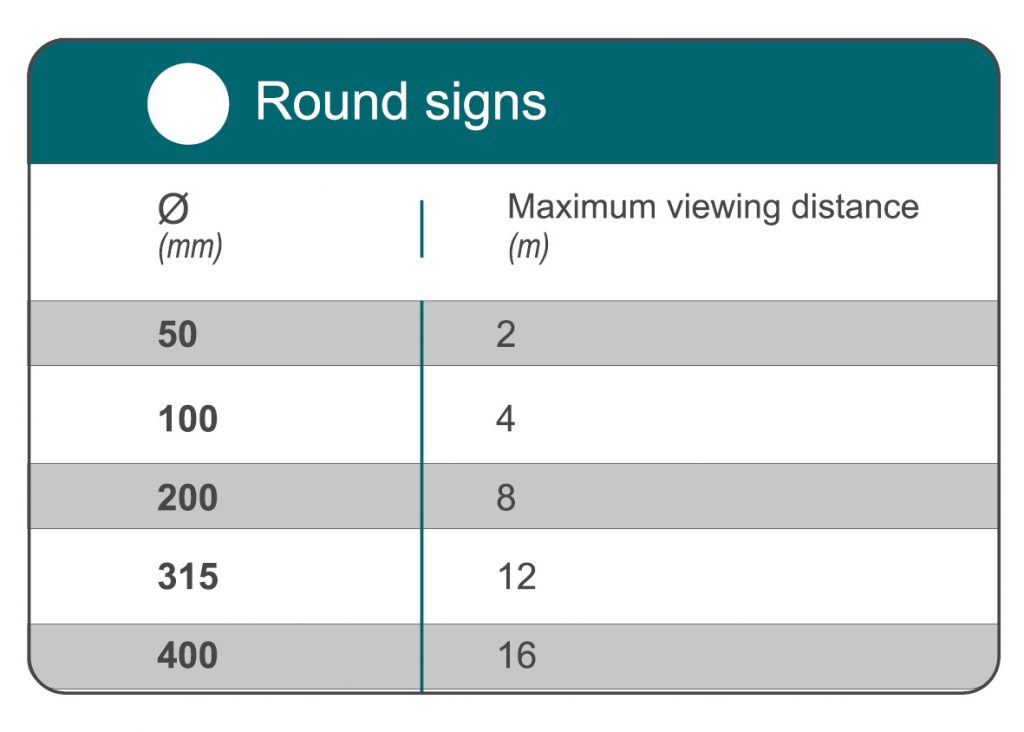 In addition to the appropriate size, you should also make sure that the safety signs remain uncovered and visible. Any dirt, snow, vehicles, or equipment covering the signs should be removed immediately.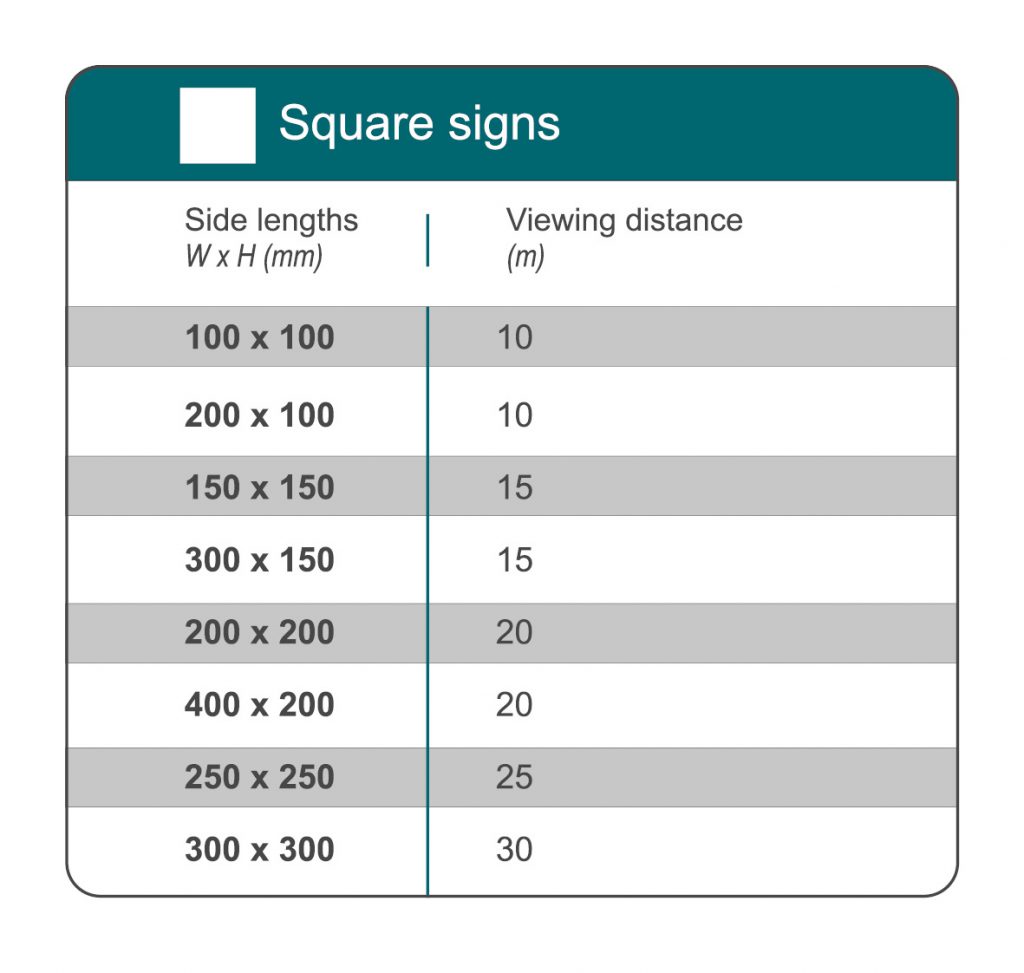 Please note: The regulations mentioned above represent only a selection of the most important legal requirements. Please refer to the listed organisations and directives for more detailed information. If in any doubt, consult experts or contact the relevant regulatory authorities.
Image source:
© gettyimages.de – Askolds
Jungheinrich PROFISHOP