Lesezeit:
6
Minuten
Fast-reacting, compact and highly manoeuvrable, forklifts are industrial trucks that utilise a range of practical features in daily operations. However, these strengths can also be a safety risk if used improperly or if operators are not sufficiently qualified to operate a forklift or stacker truck. This particularly applies to the risks of forklifts tipping over during turning and braking manoeuvres, cornering, rapid changes of direction, or shifts in the centre of gravity of transported goods. In addition, forklifts travel with forks protruding from the front or sides – and at speeds up to 40 km/h.
To keep the risk of accidents as low as possible for both drivers and other employees, special safety regulations apply to forklifts. For example, they may only be driven after extensive instruction, which must also be repeated regularly.
In this forklift safety guide, you can learn more about the most common accidents involving forklifts. We will also give you tips on how you can increase safety when using forklifts, and explain which regulations apply to occupational safety when in use.
Occupational accidents with forklifts: what are the risks?
According to the British Safety Council, approximately 25% of workplace transport injuries are caused be forklift accidents, and cause around 1,300 UK employees to be hospitalised each year with serious injuries. That's around five UK workers suffering debilitating and potentially life-threatening injuries each day.
The most common types of accident situations involving the operation of forklifts include:
Accident type
Causes
Collisions in which the forklift injures a third party
– Excessive speed
– Insufficient visibility
– Lack of floor markings
– Narrow aisles and manoeuvring areas
– Inattention or negligence of the driver or the injured party
Trucks tilting when lifting the load or on a curve
– Exceeding the permissible load
– Uneven load distribution
– Excessive speed
Dropping cargo
– Load inadequately secured
– Small parts come loose
– Packaging faulty
Injuries to joints, tendons and ligaments when getting on or off the truck
– Jumping from height
– Uneven ground
– Slipping off steps
While a tipping forklift and injuries during mounting and dismounting affect the driver, falling loads and start-up accidents primarily endanger uninvolved third parties. For this reason, it is important that not only forklift operators receive regular safety instructions, but that all employees in warehouses and production halls with forklift operations are made aware of the dangers by a safety officer. Highly visible safety signs are also required to warn operatives of the dangers.
Forklift accident prevention: Tips for drivers and employees
Using the most common causes of accidents mentioned above, we can conclude what is important when handling forklifts and which situations are particularly dangerous. Below are some tips on how to increase forklift safety for your employees in areas where they are used:
Forklifts should only be operated by persons with the appropriate training and authorisation:

Protect the forklift from unauthorised access by always removing the key and storing it in a secure location. Depending on the model and design, the forklift can also be secured against unauthorised access using chip cards or PIN codes.

Forklift safety and recurrent briefings for all drivers:

Thorough and regular instruction reminds your employees what safety regulations apply when handling forklifts and counterbalanced trucks, and how to implement them in practice.

Create and provide operating instructions on how to behave in work areas with forklift operations:

This serves as the basis for training all employees and is then posted at the appropriate locations across the facility.

Ensure appropriate personal protective equipment is used throughout the working environment:

This includes wearing a hard hat, safety shoes and a high-visibility vest.

Daily visual and functional inspection of the forklift before starting work:

Technical defects can be detected at an early stage and the defective forklift can be removed from service if necessary.

Regular repair and maintenance:

The manufacturer or appropriately certified companies carry out the annual inspection, as well as maintenance work within the scope of contracts to ensure that forklifts function in accordance with regulations.

Proper use and marking of traffic routes:

Traffic aisles must be wide enough, kept clear of obstructions, and adequately secured with floor markings and warning signs. If aisles are used simultaneously as conveyor and pedestrian routes, barriers are recommended. Panoramic mirrors at intersections prevent the risk of collisions. The additional use of the horn when turning warns employees.

Adhere to speed limits:

The forklift should be moved at a maximum speed of 20 km/h in open outdoor spaces and 10 km/h in indoor spaces (slower if necessary for heavy loads) to allow immediate braking in the event of unforeseen obstacles.

Ensure good visibility:

This includes always driving with the load lowered. If the field of vision is restricted, the truck should be moved backwards. It is also a good idea to turn on the lights for safety even when the forklift is well lit.

Avoid the risk of tipping over:

The forklift may only be moved with the load lowered. Ramps and inclines must be approached in a straight line, and slopes are best negotiated in reverse. To prevent forklifts from tipping over when cornering, a reduced travel speed is also recommended.

The load must be adequately secured:

Depending on the type of load, this can be done with straps, stretch film or similar. Before picking up with the forks, both pallets and their load must be checked for damage. Anti-slip pads additionally protect the transported goods and increase work safety.

Use electronic driver assistants:

These improve safety by emitting warning sounds when there is a risk of tipping, collision or falling.
Statutory regulations for forklift safety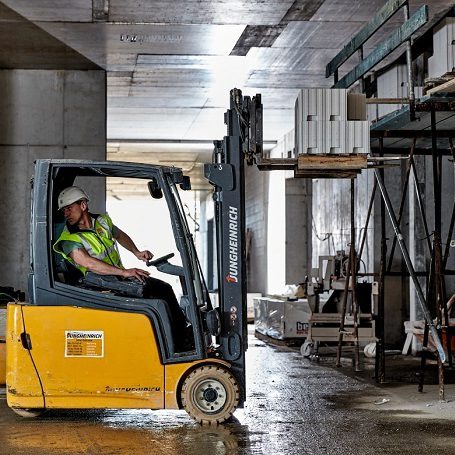 One of the main pieces of forklift legislation that affects users and owners in the UK is the 1974 Health and Safety at Work Act. This is the main legislation on which all other more specific UK Health and Safety law is based. Forklift operation and training also comes under the Lifting Operations and Lifting Equipment Regulations (LOLER), which expects all companies to plan all lifting equipment inspections, as well as the Provision and Use of Work Equipment Regulations (PUWER).
An Approved Code of Practice (L117 ACOP) was introduced in 1989 and is the single most important piece of forklift legislation affecting the training of forklift operators. This was revised in 1999 and again in 2013
One of the first regulations for forklift truck safety training concerns the requirements that an employee must meet to be allowed to drive a forklift at all:
You must be at least 16 years old in order to start your forklift training. This rises to 18 in certain work environments including ports or docks
The law also requires that forklift operators should be in reasonably good health
Employers must ensure that truck operators are trained to the standards outlined in the L117 ACOP. Forklift instruction can be done by either using qualified in-house trainers or external training providers.
Forklift safety training may be provided by organisations which are:
A member, or part, of a voluntary accredited body
Awarding organisations subject to other quality assured regimes
Offers independent in-house provision
Aside from the requirements laid out in the L117 ACOP and other regulations, you must also consider several other factors for the responsible and safe use of forklifts. These include:
Load capacity
Load securing
Driving behaviour (loaded and unloaded)
Picking up, setting down and stacking loads
Mounting and dismounting
Leaving and securing the forklift truck
Traffic management in warehouse and plant (necessary aisle width, behaviour in narrow aisles etc)
Daily function check before use
Annual visual and functional inspection by experts
FAQ for forklift safety
What are the safety hazards when using a forklift?
Most workplace accidents involving forklifts occur due to poor visibility, exceeding payloads, improper load distribution, inadequate load securement, and excessive speed. In the worst cases, these factors lead to start-up accidents, crashing of the load, or tipping of the forklift.
Are there any tips to increase forklift safety?
Well-trained personnel, regular functional checks of the forklift, compliance with occupational health and safety regulations, as well as careful load securing and a prudent driving style, significantly reduce the risk of accidents.
Which legal principles regulate the use of forklifts?
The 1974 Health and Safety at Work Act, Lifting Operations and Lifting Equipment Regulations (LOLER), and Provision and Use of Work Equipment Regulations (PUWER) all affect the safe use and operation of forklifts in the UK. An Approved Code of Practice (L117 ACOP) provides the primary set of regulations. It was introduced in 1989 and last updated in 2013.
Please note: The regulations mentioned above represent only a selection of the most important legal requirements. Please refer to the listed organisations and directives for more detailed information. If in any doubt, consult experts or contact the relevant regulatory authorities
Image source: JH AG