Lesezeit:
5
Minuten
Various types of storage shelving such as heavy-duty, pallet racking and more are available for warehouses and operational facilities, as well as offices, recreation rooms and workshops. In our shelf dictionary, we explain important technical terms and details that apply to all types of shelving. Consider this a shelving encyclopedia for all your storage needs.
A
AISLE WIDTH
In order to prevent accidents and collisions with industrial trucks, a safe distance from the storage rack must be maintained when manoeuvring. This also determines the working aisle width for forklift and pallet trucks.
ADD-ON BAY
An add-on bay can be added to a basic bay or an existing rack. It consists of a frame and several shelves or storage trays. Unlike the basic bay, it cannot be used individually.
ADD-ON LADDER
This is a one-piece or two-piece stepladder or rung ladder that can be attached to the shelving.
ANGLE SUPPORTS
Angle supports allow the safe storage of mesh box pallets. The feet of the box pallets are guided over the supports and placed on the shelf uprights.
ANGLE PROFILES
See screw system
B
BASE FIELD
A basic shelf bay (or basic shelf) is always required at the beginning of a shelf row. It consists of two frames and at least one shelf. In contrast to the add-on bay, it can be used individually.
BOTTOM JOINTS
Beams used to increase the stability and load-bearing capacity of shelves and to prevent bending and breaking under high loads.
BRACING
Storage racks are braced to ensure stability. Bracing with tension crosses is mainly used for shelving units. Diagonal bracing with longitudinal ledgers is mainly used for pallet racking.
C
CANTILEVER ARMS
Cantilever arms give this type of racking its name. Round or long stored goods such as wooden slats or pipes can be stored and secured against rolling away with a roll-off rod. Depending on the shelving model, cantilever arms are firmly welded or bolted to the upright. If bolted, the cantilever arms are height-adjustable.
CARRYING CAPABILITY
See shelf load and field load
CORNER BRACKET
Corner brackets are used to stabilise and brace racking systems. The corner brackets are used both for screw and plug-in systems.
CROSS BEAMS
Cross beams brace pallet and shelf racking horizontally and also serve as a support for shelves. Depending on the configuration, cross beams are either hooked in via clamps or bolted to the upright profile.
CROSS BRACES
Cross braces are used for the diagonal bracing of storage racks.
D
DOUBLE-SIDED
Double-sided shelving units are free-standing and can be operated from both sides. The shelves rest on longitudinal braces that brace the shelving. They can also form a static unit via back-to-back assembly.
F
FIELD LOAD
The bay load is the maximum weight the entire shelf can support. The sum of the stacked shelf loads must not exceed the permissible total bay load. The bay load is influenced by the shelf height and may be considerably lower than the sum of the possible shelf loads – depending on the material of the shelving frames. If the total bay load is exceeded, there is a risk of the entire shelving unit collapsing. The bay load must be marked on the shelving.
H
HOOKS
Hooks are used for bracing with longitudinal ledgers to hook into the upright profiles of the shelving.
I
IMPACT PROTECTION
If racks are loaded or unloaded with forklift trucks, they must be provided with impact protection (also called collision protection) at the corner areas and passages. The impact protection must be at least 300mm high and be able to absorb an energy of 400 Nm.
L
LENGTHENING BARS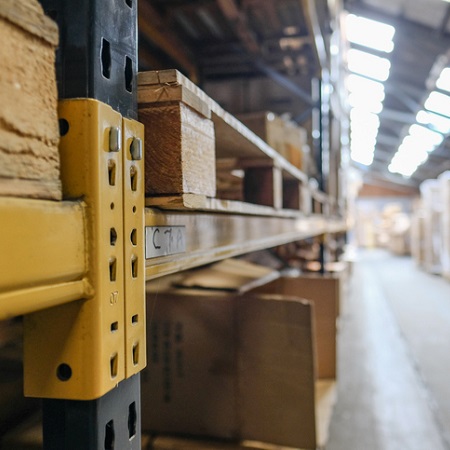 Longitudinal ledgers brace boltless shelving diagonally and are used to stabilise shelving. They have a hook on either side and are used in boltless shelving systems at certain distances. They are often used to allow removal from both sides, as cross bracing is not required.
LEVELS
Levels are the stacked storage areas per bay. For pallet racking, some also count the floor level as a storage area. At Jungheinrich PROFISHOP, however, only the upright levels are counted – the floor level is not considered a storage level in our technical data.
M
MOUNTING
Storage shelving can be assembled in various ways. Screw systems are common, where the individual shelving parts are assembled via screw connections. Shelving assembly also use plug-in connections, a quick and easy system. Some types of shelving are assembled with a combination of screw and plug-in connections. For wall or storage shelving with certain shelf heights and load types, wall or floor bolting is also mandatory.
O
ORDER PICKING SHELF
An order picking shelf complements shelving units with sloping shelves or roller rails. On the shelf, individual goods taken from the shelf can be arranged according to your needs.
P
PALLETS
Pallets are used both for transport and as storage space. They can be utilised to load and unload stored goods on forklifts or trucks or to store them in pallet racks.
PALLET RACKS
Pallet racks have front and rear uprights which form the storage level on which the pallets are placed. Depending on the shelf and bay load of the racking, the uprights can vary in thickness and load-bearing capacity. With steel or wooden supports, goods can also be stored on the upright construction without pallets.
PUSH-THROUGH SAFETY DEVICE
A safety catch that prevents stored goods from being pushed through too far when loading double-row racks. Push-through stops are also used to secure single-row racks.
PLUG-IN SYSTEM
Shelving using the plug-in system consists of T-profile frames. The shelves are attached to the frame via shelf supports and can be adjusted in height at any time without the use of tools. This means they can be flexibly adapted to the stored goods. The special bevelling of the T-profiles also allows for high stability and load-bearing capacity.
R
RACKING SYSTEMS
This refers to storage racks that can be individually extended in both height and width by means of add-ons.
RACK TESTING/INSPECTION
For some types of racking, regular inspection by qualified personnel is mandatory. During the inspection of shelving units, material damage, labelling violations or other defects should be detected and eliminated. The racking inspection must also be documented.
ROLL PROTECTION
Stored round materials must be secured against rolling out. A roll-off rod divides the arms of a cantilever rack for this specific purpose.
ROLLER RAILS
Individual stored goods can be moved smoothly via roller rails in storage racks.
S
SAFETY PIN
Locking pins are used to secure the uprights in pallet racking so that they cannot be accidentally lifted out when the racking is loaded or unloaded.
SCREW/PLUG-IN SYSTEM
With this system, the upright construction of the shelving unit is assembled using screw connections. The individual shelves are then added via a plug-in assembly.
SCREW SYSTEM
With this system, the shelves of the shelving unit are also screwed in. This is done using angle profiles. Corner brackets are used for bracing.
SHELF HEIGHT
The shelf height is the distance between the floor and the top edge of the first shelf or between the top edge of one shelf to the top edge of the next shelf. The shelf height is also referred to as the bend length. The shelf height has a significant influence on the bay load. The clear shelf height, on the other hand, is the height of the shelf from the top edge to the bottom edge of the next upright and is the space available in the shelf for storage.
SHELF LOAD
The shelf load refers to the maximum load capacity of the individual shelf when the weight is suitably distributed. If the shelf load is exceeded, individual shelves may collapse. The shelf load must be clearly marked on the shelf.
SHELVES
Shelves serve as load-bearing devices for stored goods of any shape and size and can be used for the storage of general cargo.
SINGLE SHELF LINE
In contrast to double-sided shelving, single-sided shelving lines can only be used on one side. They are often braced with cross braces and are ideal for wall installation.
SPACER
A spacer is used when assembling pallet racks to achieve an even distance between the racks.
SUPPORT PROFILE
Upright profiles are vertical load-bearing elements that are connected with tensioning crosses or C-profiles to form a load-bearing frame. In the case of bolt-together shelving, the upright profiles are erected with angle and corner profiles to form a load-bearing frame in which the shelves sit.
T
T-PROFILE FRAME
See plug-in system
Image source:
© gettyimages.de – serts
© gettyimages.de – Nickbeer