Lesezeit:
4
Minuten
To store goods or merchandise safely in the warehouse, it is important to equip the premises with the appropriate storage shelving. This is the only way to store goods according to their shape, weight, and other requirements. In addition, depending on the goods being stored, it may also fulfil legal requirements for storage. Cantilever racks are ideal for storing long goods such as pipes, battens, laths, or boards in a fall-proof manner and within easy reach at all times.
Cantilever racking systems consist of a robust frame and horizontally attached arms, which are available with optional roll-off protection. Cantilever storage racks can be assembled on one or two sides. The long goods are stored horizontally on the arms, which are available in various lengths, and secured against rolling away with roll-off protection, as required. The shelving units are available in a plug-in system or with welded arms and offer different load capacities depending on the design. The guide below aims to provide you with a summary of the advantages of cantilever racking, and also offers advice about when it may not be suitable.
Perfect for long goods – The advantages of cantilever shelves
Cantilever racking, which belongs to the category of heavy-duty shelving, primarily meets the storage requirements of warehouses where a lot of long goods such as pipes, bars, wooden slats, or boards need to be stored. They enable safe, clear storage, and also offer a range of other advantages:
Advantage
Explanation
Ideal for storing heavy and bulky loads
• Cantilever racking has high load capacities of up to 630 kg per arm
• Long goods, tubes, rolls, and slats can be stored safely thanks to optional roll-off protection
• Easy access to stored goods
Flexible
• Can be supplemented with shelves, chipboard panels, arm or foot bridges or gratings. Goods of different lengths, pallets or small parts can also be stored in this way
• Shelving units in the plug-in system can be individually extended
• With floor anchoring, cantilever pallet racking can also be used at great heights, saving floor space for goods storage
Versatile use
• Single-sided cantilever racking can be erected against walls
• Two-sided cantilever racking is suitable as a room divider
• Cantilever storage racks can be used indoors and outdoors and is also available with roof or side cladding
• Smaller cantilever models can be fitted with castors and used as mobile shelving.
Cantilever racking: The disadvantages
Cantilever racking is specially designed for the storage of long goods. So, despite the high flexibility, the use of heavy-duty shelving is limited. Some other disadvantages should also be considered when considering whether cantilever racking is the right choice for your warehouse:
Disadvantage
Explanation
High space requirement
• The protruding arms of a cantilever rack require a space-consuming set-up
• Additional space must also be taken into account when removing goods from the racking
Can only be used for certain stored goods
• Due to their design, cantilever steel racks can only be used for the LiFo storage strategy (last in, first out).
• Limited automation possibilities
• Because of the open storage, only goods that are insensitive to contamination can be stored
Structure of cantilever storage racks
At its most basic, cantilever storage racks consist of a base bay and several cantilever arms (always at least two). The base section consists of two vertical side panels, two horizontal braces and a cross connector. In some models, the cantilever arms are already welded to the side sections. This makes them quicker to erect.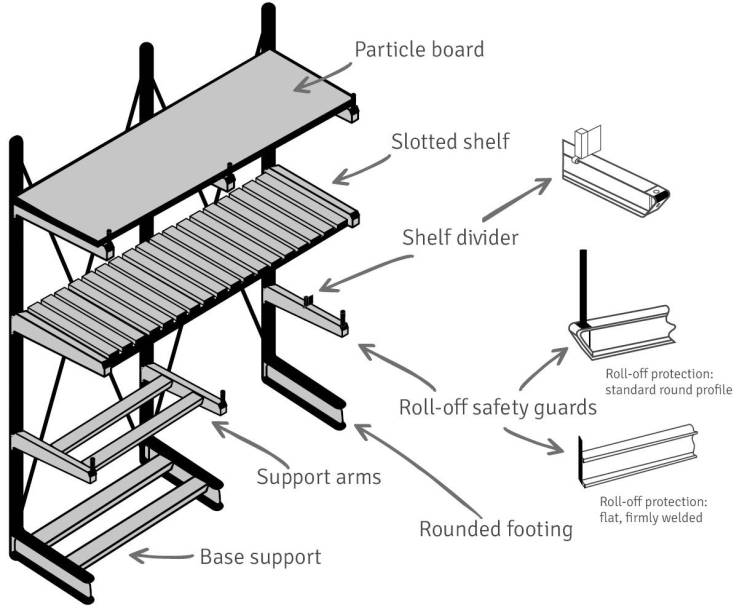 Others have a flexible plug-in system. This allows you to attach the cantilevers at the desired height and reposition them at any time if necessary. Screws are usually not needed – instead, the cantilever arms are held in place by safety pins or simply by locking nuts
A basic bay can be extended as desired. For each additional bay, you need another side panel and two cross braces. For longer cantilever racks, a cross connector must be used every five bays for the sake of stability. 
To avoid overloading the racking, you should also know its shelf and bay load. The shelf load indicates how much weight you may load one level of your cantilever rack. If a shelving level consists of two cantilever arms with a load capacity of 400 kg each, the shelf load is 2 x 400 kg, i.e. 800 kg. The long goods with which you load the level must therefore not weigh more than 800 kg. In the case of shelving with several levels, the sum of the respective shelf loads must not exceed the maximum bay load. This indicates how much weight the whole shelving unit can carry and depends on the height and width of the side panels. For cantilever racking it is between 900 and 20,000 kg.
Safety requirements for cantilever racking
To ensure that cantilever racking can be used safely, it must meet the requirements laid down by the Health and Safety Executive's guidelines for warehouse storage. They must also be evenly spaced and labelled with their maximum load capacity. 
It is important to ensure stability during assembly. To do this, you must make sure the side panels are plumb, i.e., very precisely vertical. The deviation must not exceed 1/200. To compensate for uneven floors, you can use levelling or special shims.
To load cantilever racking safely, the following specifications must also be observed:
The load must be positioned in a level position on the shelf level
The load weight must be evenly distributed on the cantilever arm
The stored goods must not protrude by more than half an axle dimension on the outer sides.
Sufficiently wide aisles between the racks – at least 1,250 mm for manual operation. Industrial and pallet truck dimensions should also be checked to ensure distances of 500 mm on each side can be maintained. In addition, a regular rack inspection is mandatory. To prevent the goods from falling out, most models come with additional roll-off guards for the cantilever arms. With an optional impact protection, you can also avoid collisions between the racking and the forklift truck.
Please note: The regulations mentioned above represent only a selection of the most important legal requirements. Please refer to the listed organisations and directives for more detailed information. If in any doubt, consult experts or contact the relevant regulatory authorities.
Image source:
© gettyimages.de – mediaphotos